FORECASTING & SCENARIO PLANNER TOOLS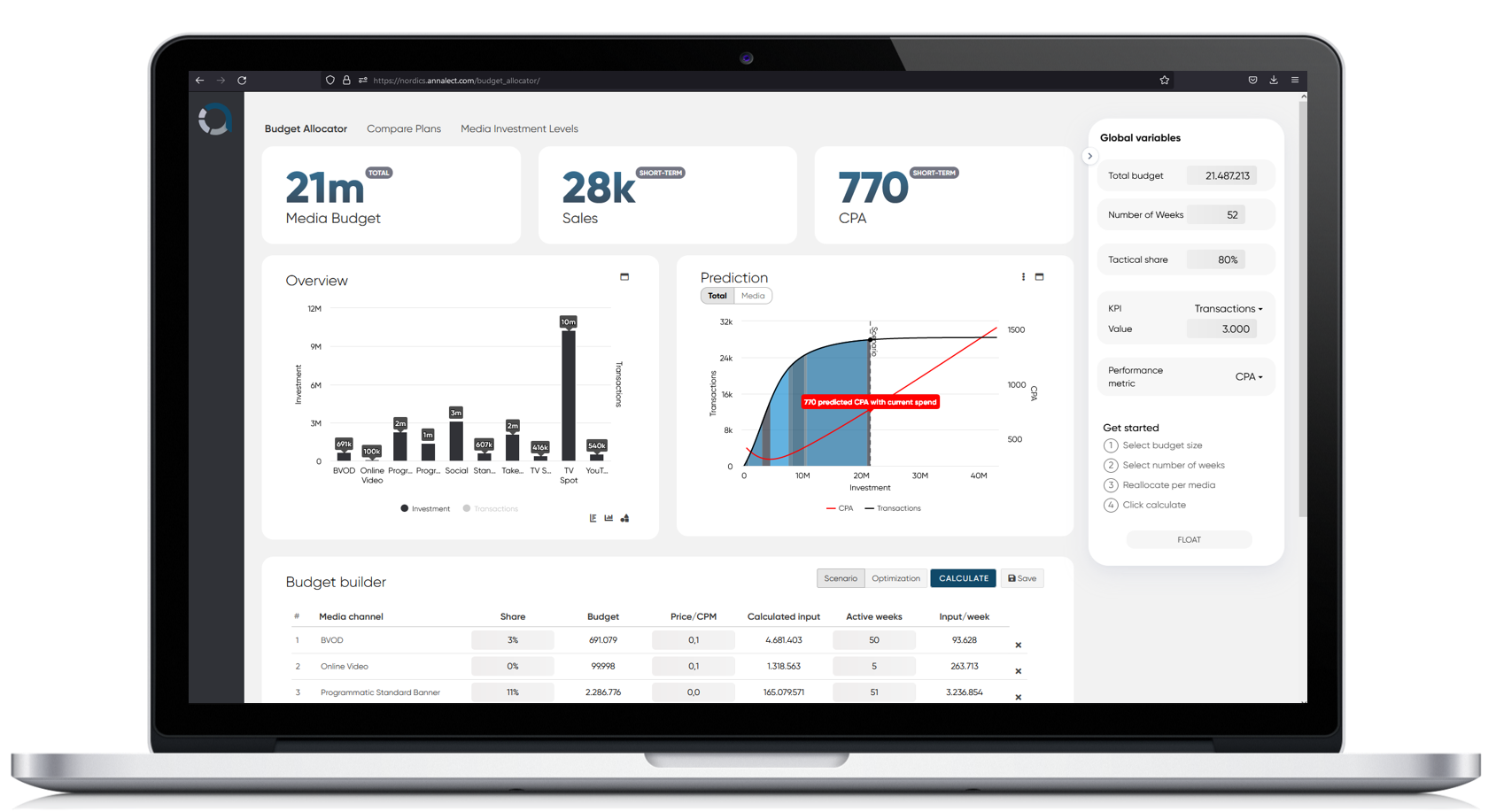 Budget Allocator
With Annalect's Budget Allocator, you can adjust your marketing spend across media channels and see the potential impact on your business outcomes in real-time.
Creating a media investment plan can feel like navigating a minefield, with limited resources and endless possibilities. Annalect's Budget Allocator is a compass for marketers, offering reliable and data-driven guidance to your decision-making.
By leveraging marketing mix modeling, it empowers you to allocate your budget efficiently and maximise ROI.
The interface allows you to either simulate different media plans or let the allocator do your optimisation. You can choose to set the optimisation completely free or you can add constraints. Maybe you have contractual obligations with certain media channels that need to be honoured. These are easily set in the interface.
Avoid making decisions based on assumptions by integrating forward-looking analytics. Budget Allocator will be the compass to optimal media investments making sure you meet your sales targets.
Benefits
Maximise media ROI – benchmarks range from 10-30% increase
Monthly, quarrterly or yearly sales forecasting. Optimise budget or profit.
Plan with real-life constraints such as certain fixed media shares
Optimal media spend allocation
Scenario planning with multiple settings options
Simulations of budget adjustments
Forward-looking analytics
Effect & saturation curves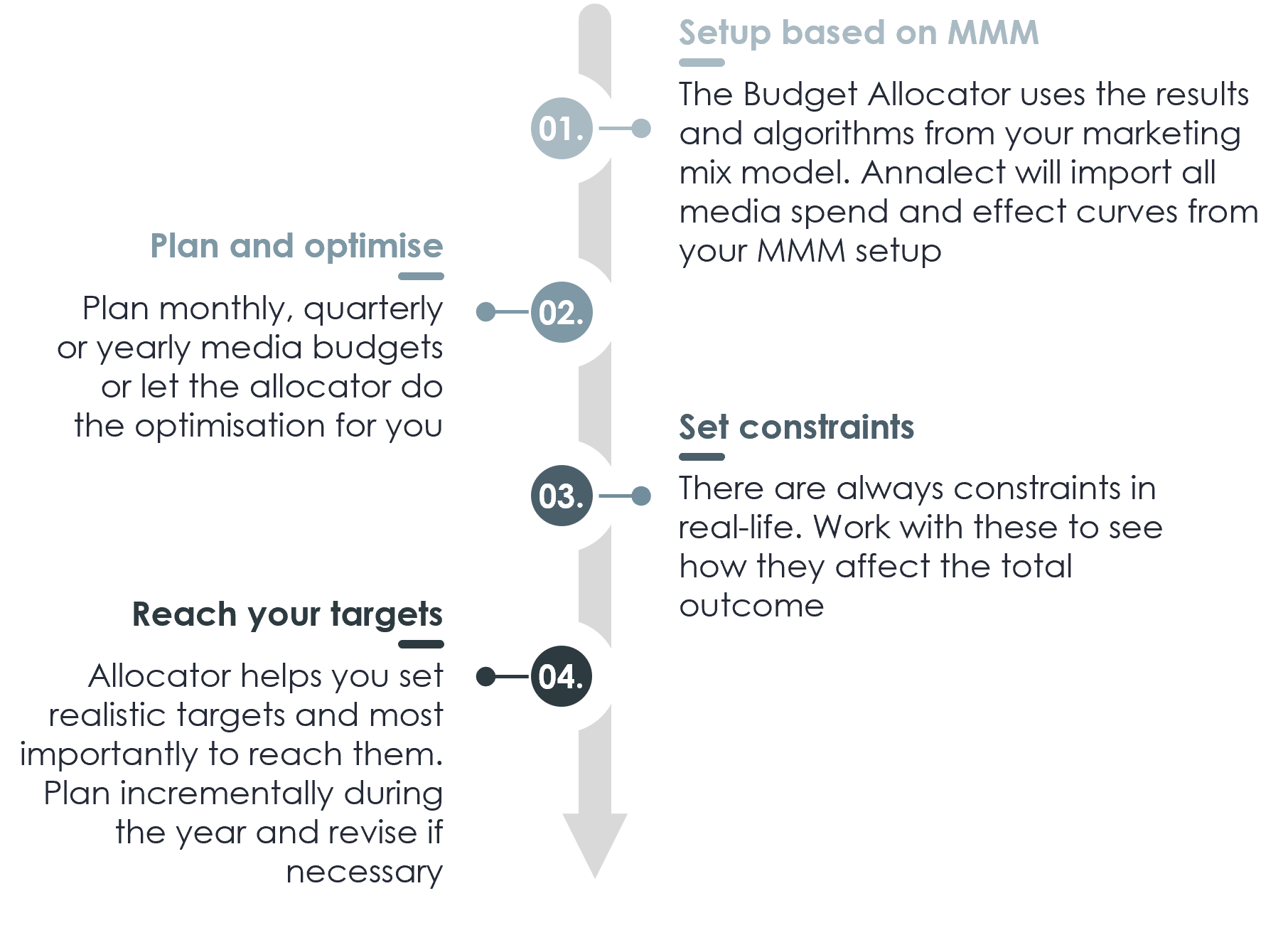 How it works
The Budget Allocator is built on modern econometrical principles. It's developed to harness the power of your existing marketing mix model, so you can forecast and optimise your media investment in an intuitive dashboard. It simulates future media effects based on the statistics from the models allowing you to fully leverage your research investment.
The easy-to-use interface allows the user to specify the desired planning period and set the overall split between branding and tactical investments. Forecasts and optimisations take account of the weekly media pressure on both a total and a channel level. Effect curves can then be viewed on a total and channel level, allowing you to understand the different saturation levels.
Save and compare scenarios and load historical data if you need. Can't remember the exact allocation from last year or how much we spent on radio two years ago? It's all accessible in the dashboard.
By using your existing MMM setup, the predictive power of the Budget Allocator is automatically refined over time.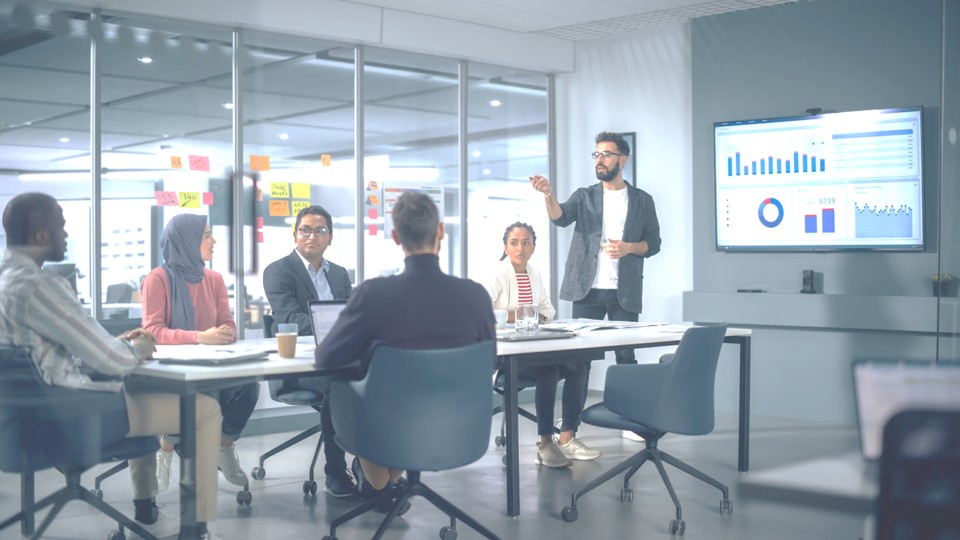 How to get started
Get in touch with us today and learn more about how you can optimise your media budget and strike the right balance between tactical and brand marketing.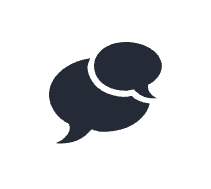 Get in contact
Make a request
Let us know how we can help you