FORECASTING & SCENARIO PLANNER TOOLS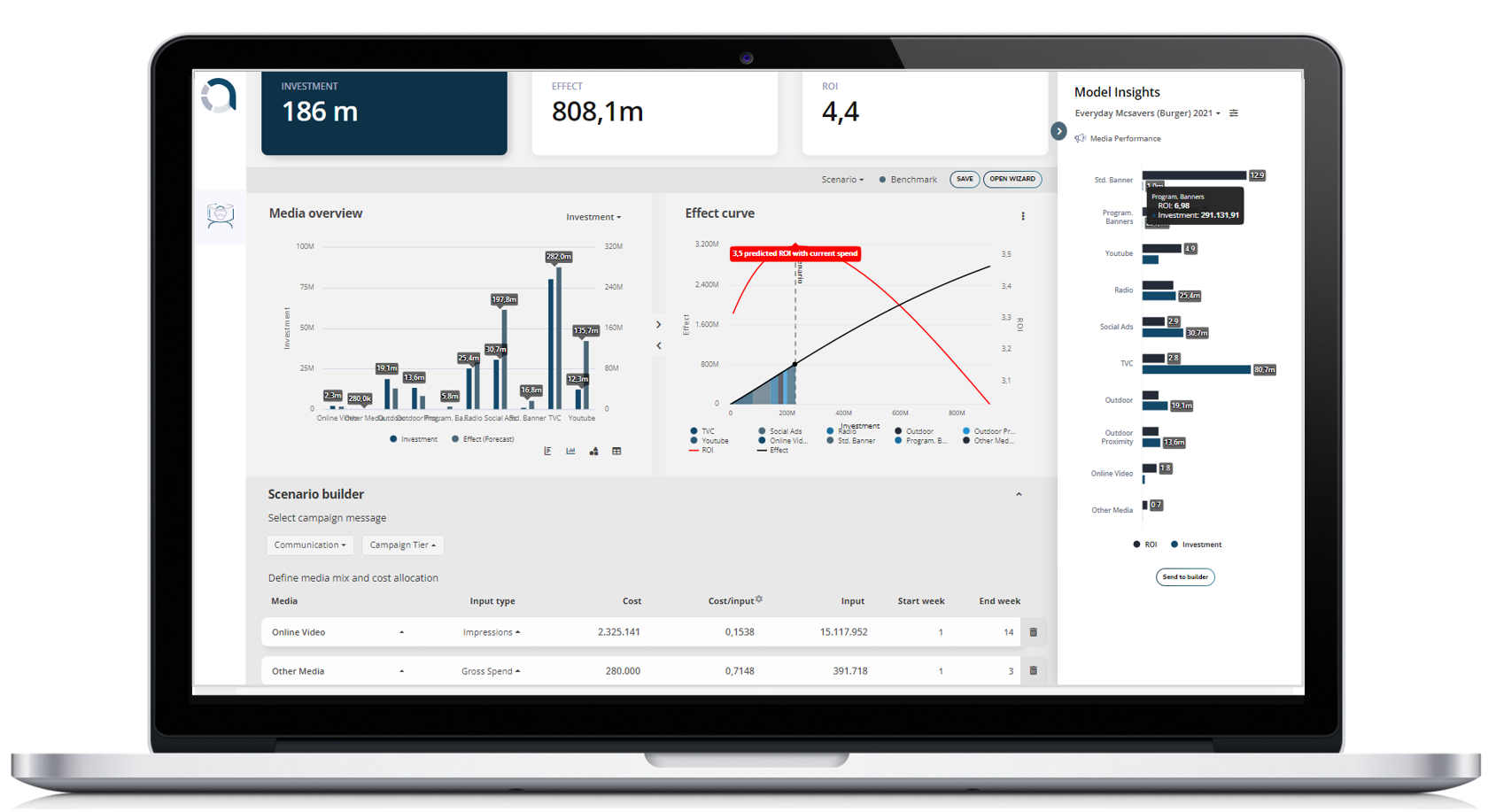 Campaign Simulator
Planning an impactful marketing campaign can feel like navigating a maze. With so many different channels, target audiences, and messaging options to consider, it has never been more difficult to decide which direction to choose.
Annalect's Campaign Simulator offers you insights and guidance, ensuring you don't take a wrong turn and waste valuable resources. By leveraging your marketing mix models, it provides you the ability to test various campaign scenarios, so you can find the most efficient and effective route to success. With Campaign Simulator, you can adjust your existing campaigns or simulate new ones and quantify the impact on your business outcomes in real-time.
Helping your planners get started, we have ensured that the user can import any historical campaign. Just pick it from the drop down menu, and the user will immediately have an overview of media pricing (CPMs) that can be edited on a channel level to match the price of your simulated campaign.
New channels can be added, and average historical prices will be used as a default value.
Benefits
Maximize ROI on campaigns
Simulate campaign scenarios
Activate your MMM results
Features
Campaign scenario planning
Import all historical campaigns
Media & channel synergies
Effect & saturation curves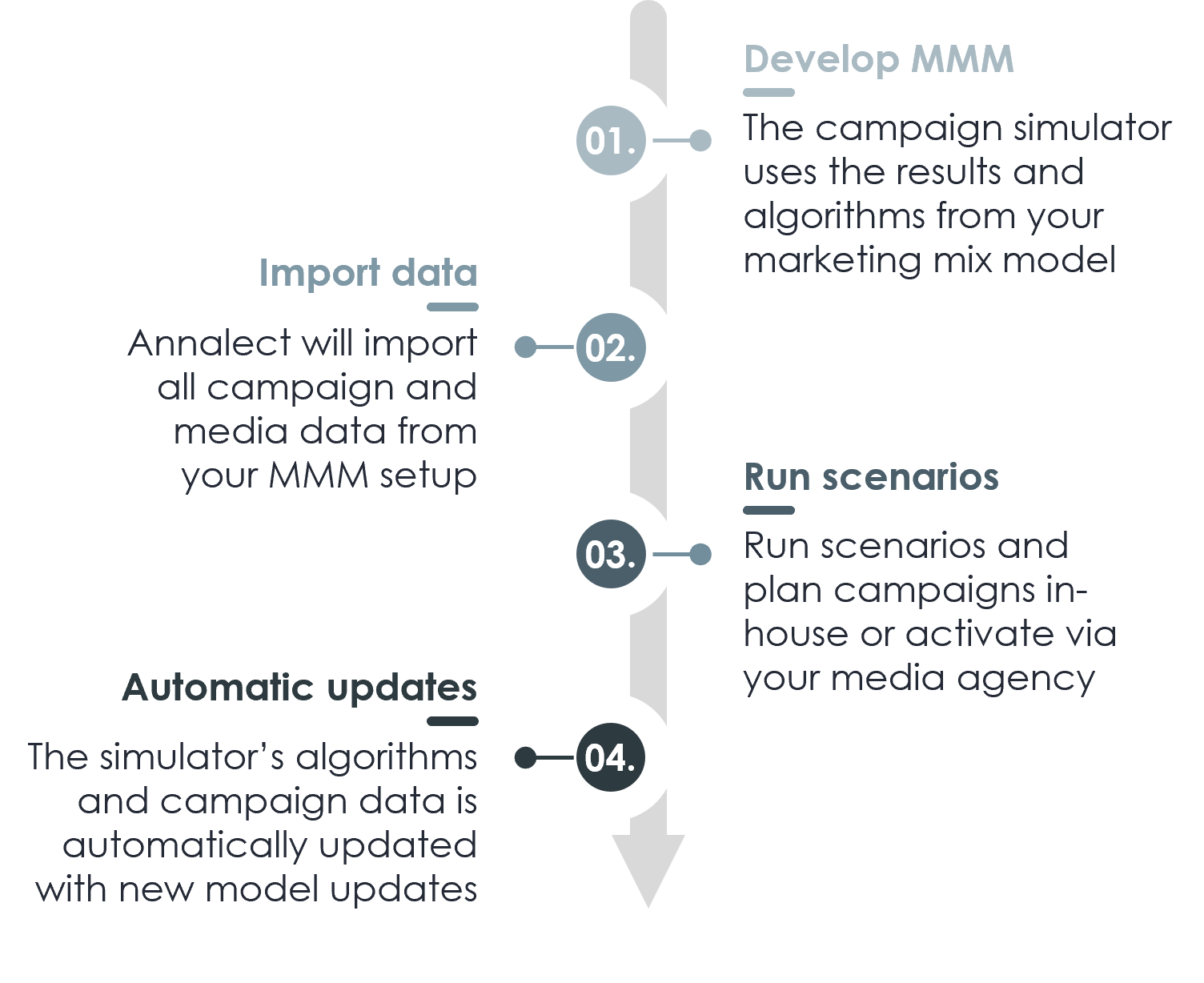 How it works
Annalect's Campaign Simulator is built to activate the power of your existing marketing mix model, so you easily can adjust and optimise your campaigns in an intuitive dashboard.
By using the algorithms from your existing marketing mix model (or models), we can simulate future media effects. The predictive power of the Campaign Simulator is automatically refined over time as you update your models, and historical spending data is always available at your fingertips.
The simulator allows you to choose from the different messages you have tagged in your MMM setup. This means not only top-level branding vs. tactical messages but all detailed messages on concept, product or campaign type depending on your chosen taxonomy. Lastly, it goes without saying that the campaign simulator accounts for diminishing returns as measured in your MMM, i.e. simulation is based on campaign length and corresponding weekly media pressure.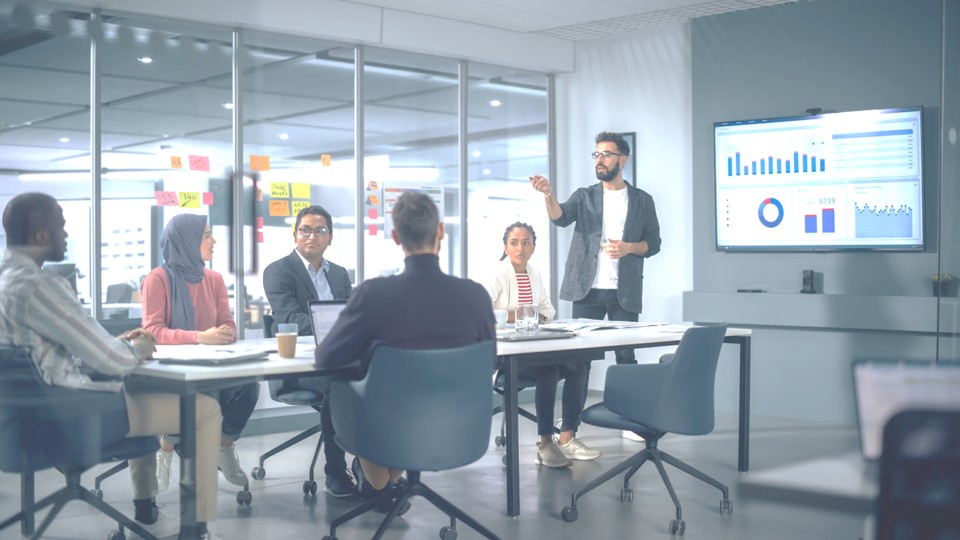 How to get started
Get in touch with us today and learn more about how Campaign Simulator can be your compass to adjust, and optimise your campaigns.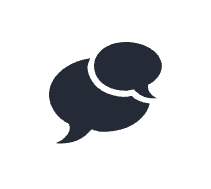 Get in contact
Make a request
Let us know how we can help you